HISTORY

Hnub Tshiab: Hmong Women Achieving Together, formerly known as Hmong Women's Action Team, began as a grassroots organization in 1998 to address violence against women in the Hmong community. After a series of domestic violence cases became very public in the Hmong community, a core group of Hmong women leaders from the Twin Cities came together to discuss and address issues affecting Hmong women and girls. Furthermore, a study at the time, which involved a survey of over 100 community members, also found that sexism was a root cause of violence against Hmong women and girls. Hmong Women's Action Team began under the Ramsey County Initiative for Violence Free Families with the mission to "end violence against Hmong women by ending sexism."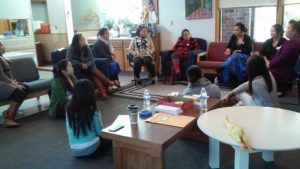 In 2005, Hmong Women's Action Team convened the community to discuss the progress of their work and the status of Hmong women and girls. Through deep conversations, it became clear that at the individual level, progress was made, however, there still lies institutional, social, and cultural norms that continue to be barriers to women to live to their fullest potential.
In 2006, Hmong Women's Action Team underwent an organizational transformation and strategic planning process. The organization rebranded itself to Hnub Tshiab: Hmong Women Achieving Together. Hnub Tshiab, means "a new day" in Hmong. In English, the organization "Hnub Tshiab" will also be called Hmong Women Achieving Together.
In 2007, Hnub Tshiab: Hmong Women Achieving Together (HWAT) incorporated as a 501(c)3 nonprofit organization with the mission to be a catalyst for cultural, institutional, and social change to improve the lives of Hmong women. The organizational transformation demonstrated the growth and advancement of their work in how it conceptualizes Hmong women's experiences. Rather centering Hmong women's experiences around how their lives are shaped by sexism, HWAT focuses on the mechanism to undo patriarchy in Hmong society by elevating and empowering Hmong women. HWAT is an organization for Hmong women, led by Hmong women. HWAT elevates and empowers Hmong women by developing their leadership skills and by engaging families and communities in building insight and understanding about the changing dynamics of Hmong culture. HWAT asserts that it is ok for Hmong women to focus on Hmong women and it is ok to talk about sexism and gender inequality in our endeavor to promote Hmong women's autonomy and leadership.