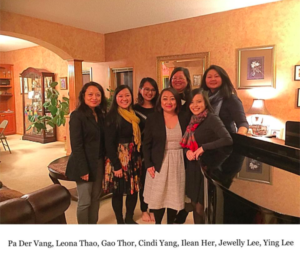 EXECUTIVE COMMITTEE
Jewelly Lee, Chair and Treasurer (2012-Present)
Jewelly is the Assistant Director of Student Employment and Leadership in the Center for Community Work and Learning at St. Catherine University. She manages two of their center's programs, America Reads and Assistantship Mentoring Program. As the Assistant Director of Student Employment and Leadership, she oversees the hiring and training of student employees.  In addition, Jewelly works closely with community organizations and schools to ensure student employees are receiving a meaning work experience. She enjoys cultivating young leaders and giving them opportunities to make change happen in their community. Jewelly has a Bachelor of Art in Women's Studies and Sociology from St. Catherine University.
BOARD MEMBERS
Pa Der Vang (2014-Present)
Dr. Pa Der Vang is an associate professor at St. Catherine University/University of St. Thomas School of Social Work and a cofounder of Hnub Tshiab. After completing her degree in Sociology from UW-Madison, she received her Masters and Ph.D. in Social Work from the University of Minnesota Twin Cities. She practiced as a clinical social worker for 8 years before starting her teaching career. She has experience in adult mental health, domestic violence, children's advocacy, county program planning, youth and adult mental health crisis, and group therapy. She has published articles on the effect of teenage marriage on Hmong women and cultural change among Hmong in America.  Her current research is on Hmong Americans and the effects of acculturation. She is the coordinator of the Critical Hmong Studies Minor at St. Catherine University.
Ilean Her (2007 – Present)
Ilean is CEO of Hmong Elders Center, a senior adult day center and comes to HWAT with a vast experience in the government, non-profit and philanthropic sectors. As the former Executive Director of the State of Minnesota Council on Asian-Pacific Minnesotans, Ilean was at the forefront of the establishing legislation, policy, and programs to address the needs of the Asian American and Pacific Islander communities statewide.
Ying Lee (2011 – Present)
Ying currently works for Anoka County as the Health Education SHIP Coordinator. Prior to this position, Ying worked for the YMCA as a Community Project Director.  As the Hmong Cultural Liaison for the Independent School District 622 in North St. Paul. She founded and coordinated the first Hmong Youth Development Conference with over 300 students in attendance, teaching and sharing information about Hmong culture, leadership development, and college access resources. Ying also worked with district families to establish the first Hmong Parent Student Council Support Group. Her other responsibilities include communicating and working with teachers, counselors and students to ensure students' graduation requirements fulfillments. Ying's previous work experience includes her time with Minnesota College Access Network as a College Access Facilitator; as Contract Liaison for the Destination 2010/Minneapolis Foundation; and as the Cultural Dynamics Consultant and Executive Assistant with Greater Twin Cities United Way.  Ying received her Bachelor of Science in Human Service Administration at Metropolitan State University.
Cindi Yang (2015-Present)
Cindi Yang, director of Community Partnerships and Child Care Services, Children and Family Services, joined the department in August 2015. She oversees Child Care Assistance, Child Development Services and the Office of Economic Opportunity. She leads work to promote the well-being of children and self-sufficiency of families by delivering quality child care, child development and economic support services to children and families.
Prior to beginning her career with the Minnesota Department of Human Services, Yang served as the director of Programs and Public Policy at Neighborhood House, a partner of the Minnesota Department of Human Services, that operates diverse programs to help stabilize the lives of Minnesota families and break the cycle of poverty. Yang was also a Community Faculty professor at Metropolitan State University's department of social work. She co-founded the Minnesota Hmong Social Work Coalition,creating a space to develop Hmong social workers as leaders in their field.
Gao Thor (2015-Present)
Gao Thor is currently junior in her undergrad at Macalester College. Psychology major and Educational Studies and Religious Studies minor. Gao is the Capacity Associate for the Amherst H. Wilder Foundation's Youth Leadership Initiative, a multicultural youth leadership program that provides young people the opportunity to build skills and qualities needed to be agents of change in their community. She has over 5 years of experience in tackling issues in her community through youth leadership development, facilitating dialogues around personal narratives, and facilitation training. Gao was a recipient of the Davis Projects for Peace grant of $10,000 where she designed and facilitated program with young Hmong women about personal narratives in Minnesota and Laos to address gender equity in Hmong community. She is passionate about closing racial and ethnic disparity gaps, and promoting empowerment among communities that have been historically discriminated against.
Leona Thao (2016-Present)
Leona Thao is a 2014 alumna of Hnub Tshiab's Hmong Women Leadership Institute Program. She brings not only her passion for gender and racial justice but also her skills and experiences in program evaluation and public policy to support the work of Hnub Tshiab. 
Born and raised in Oklahoma, Leona relocated to Minnesota in 2013 to serve as an AmeriCorps VISTA to enhance the fundraising capacity of K-12 public schools, and thereafter to pursue graduate school. Leona has a Bachelors in Business Management from Oklahoma State University and earned her Masters of Public Policy from the Hubert H. Humphrey School of Public Affairs.