Hnub Tshiab: Hmong Women Achieving Together (HWAT) was founded in 1998 when a group of Hmong women leaders from around the Twin Cities Metropolitan area gathered at a retreat to talk about issues affecting Hmong women and girls. A core group from that retreat was formed, with the mission of preventing violence against Hmong women and girls by ending sexism in the community.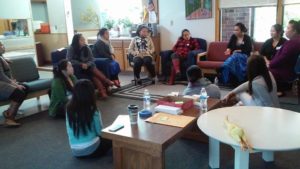 Many projects and years later in 2005, HWAT held another large retreat to talk about the progress that Hmong women have made in those years. The outcome of the retreat was the realization that individually, Hmong women have achieve much, but sadly, institutions as well as social and cultural norms were still barriers to the full success of women.
In 2006, HWAT underwent a strategic planning process that included plans for incorporation as a 501(c)3, a revision of the mission statement, and a name change from the Hmong Women's Action Team to its current name, Hnub Tshiab, which means "a new day" in Hmong. In English, Hnub Tshiab will also be called Hmong Women Achieving Together.